1.
ASOS Curve Leggings with Metallic Paint Splatter, £20
2.
New Look Inspire Sheer PU Collar Shirt, £19.99
3.
ASOS Curve Peplum Dress with Feather, £45
4.
ASOS Orelia Skull Pendant Necklace, £10
5.
ASOS Nose & Chain Earring, £6
6.
Topshop Cross Collar Tips, £8.50
7.
ASOS Curve Link and Plate Waist Belt, £12
8.
New Look Inspire Sleeveless Denim Vest, £16.99
9.
Jessica Louise Striped Skull Capri Leggings, $30
10.
Evans Black Leather Fur Trimmed Boots, £89.50
11.
ASOS Cath Kisdton 'A' Badge, £6
12. New Look Inspire Black Leather Look Skater Skirt, £19.99
13.
ASOS Spiked Epaulettes, £15
14.
ASOS Lazy Oaf Batman Backpack, £55
Starting my new weekly wishlist, this week is all clothes, but its not always going to be. If I had to pick one item off this list it would be that ASOS feather peplum dress, its a dream dress. Unfortunately I don't have £45 to blow on a dress.
Also, I am done with summer I want my black clothes and layers back without boiling to death. I am channeling my inner goth this week. :)
NB. I ordered the faux leather skirt, sheer shirt & denim vest from New Look, but I am sending the skirt back. The other two items were nice, but the skirt is so nasty, the picture online looks lovely. The actual item is made of the cheapest, nastiest, shiny fabric. It is also not as full as the online pic and doesn fall nicely, like a skater skirt should. Dissapointed, but then again it was £20, so I shouldn't be too suprised.
If I had time I would replace it with this slightly more expensive, but hopefully better quality SimplyBe version: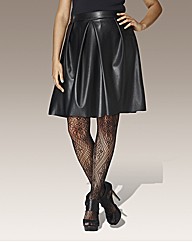 Leather Look Skater Skirt, £38
What are you guys craving this week?